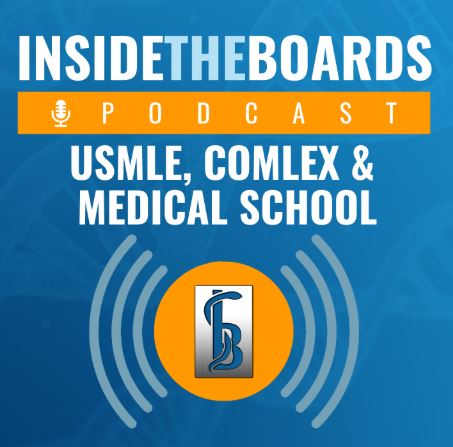 In today's episode Chase Dimarco, host of ITB's Medical Mnemonist Podcast, continues his discussion with Dr. Adam Rodman, host of the Bedside Rounds Podcast, to cover some of the history of medical thought, medical devices, and the development of ethical clinical trial guidelines. Have you ever wanted to know when exactly we came to know that smoking was bad? Do you know When modern clinical trial laws and protections came about and why?
Where we are today in medicine depends on where we have been, and where we are going is defined by where we are. Join us as Adam covers the history of French medical schools, Malaria used as a treatment for syphilis, and other great tales from medical history.
For our question dissection today, ITB's founder and podcast co-host Patrick Beeman breaks down a question related to malarial infection treatment options.  His breakdown dives deep into the pathogenesis of the disease and the lifecycle of the parasite as it is passed onto the host from the female Anopheles mosquito. Follow Patrick on Instagram
@darthbeeman
InsideTheBoards Study Smarter Podcast 
Check out the ITB Study Smarter Series Podcast channel. Go to bit.ly/ITBpodcasts or just click here to check it out on iTunes. We're wrapping up our USMLE Step 1 Study Smarter Series, the best, free audio resource for USMLE Step 1 prep. 
ITB Audio Qbank and iOS Beta App
The Audio Qbank by InsideTheBoards mobile app has both free and premium features and is available on both Android and iOS. 
To get started, first, create a Boardsinsider Account on our website insidetheboards.com
Free Features 
All of our podcasts in one place organized into playlists for easy studying (also with less ads and exclusive content) 

Mindfulness meditations designed specifically for medical students 

A monthly offering of high yield content (questions dissections, audio qbank samples) available only on our mobile app. 
Premium Features
Subscribe to an ITB premium account and get additional features 
Access to 500+ audio optimized board style practice questions in our Audio Qbank. The Step 1 version is powered by Exam Circle and the Step 2 Version is powered by OnlineMedEd. New questions added each month. 

High Yield Pharmacology (powered by Lecturio) with 100 of the top pharm questions you need to know for both Step 1 and Step 2 

Audio Flashcards (coming soon) 
Our audio qbank is THE PERFECT companion for studying for the boards on the go. And we're adding content and improving it all the time.  
Learn more about the Audio Qbank by InsideTheBoards mobile app here
Legal Stuff and Credits
InsideTheBoards is not affiliated with the NBME, USMLE, COMLEX, NBOME or any professional licensing body. InsideTheBoards fully adheres to the policies on irregular conduct outlined by the aforementioned credentialing bodies.
Music: Cover of "Thank You" by Alanis Morisette by Mark Mikina. Listen to the full track on YouTube.